Friday at Roskilde Festival started off a bit sluggishly, having stayed up late to watch Slayyyter's performance the night before. That was at Gloria and the two best shows of the Friday were at the same venue. The first gig of the day for me was Ydegirl at Gloria, which was quite a difficult one to get in to. The Copenhagen-based artist Andrea Novel did an hour-long set with a group of other musicians.
Despite having to queue for half an hour, the part of the show I was able to see was more than worth the wait. Accompanied by violin, baritone clarinet, guitar and percussion, Ydegirl alternated between singing, playing piano and bass. She made a name for herself on the underground scene – being championed by the liked of Posh Isolation.
The first time I heard Ydegirl was in her collaboration X & Yde, who were included on the compilation Kulør 006 from two years ago. Solo, her music is less electronic but still including elements of R&B in a sort of baroque chamber pop style. Last year she finally released her first longplayer – a selftitled 11-track LP on Echo (the Copenhagen label who have also worked with Astrid Sonne and Varnrable).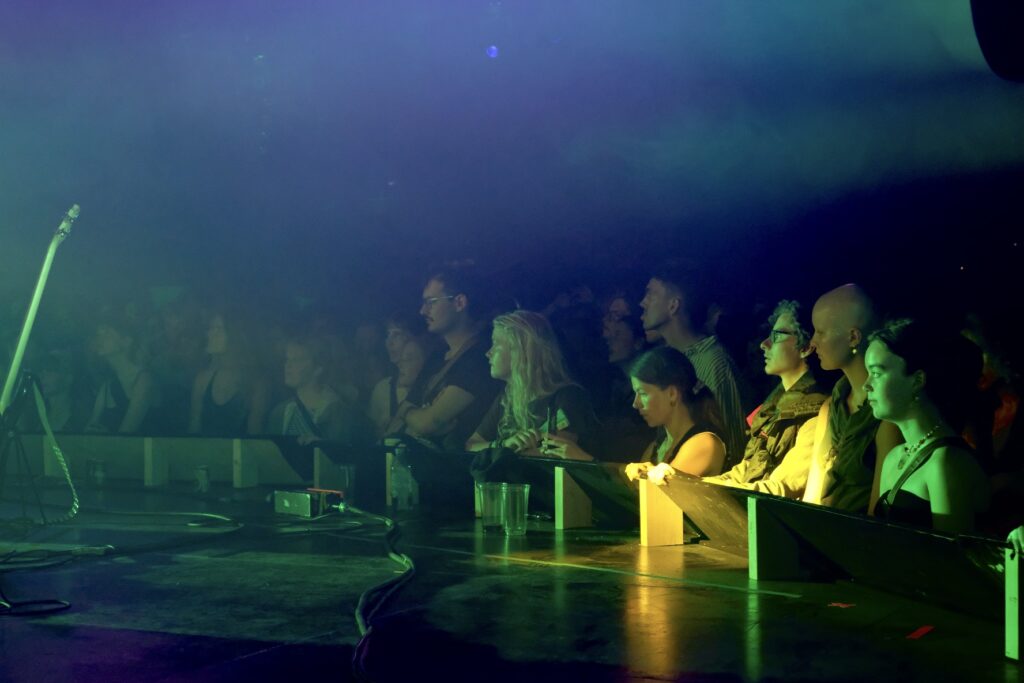 The audience at Gloria were captivated by the beautiful music and the honesty and feeling of Ydegirl's lyrics, which were accompanied by the visuals created exclusively for this show. What felt like a hard act to follow turned out to be directly followed by another amazing performance.
The Japanese punk-group Otoboke Beaver had been added to the programme on the same day, following cancellations from a couple of other performers. The group had performed at a festival in France and were rushed to Zürich to be able to get to Roskilde in time. What a special replacement that was, especially considering I'd been wanting to see them for many years.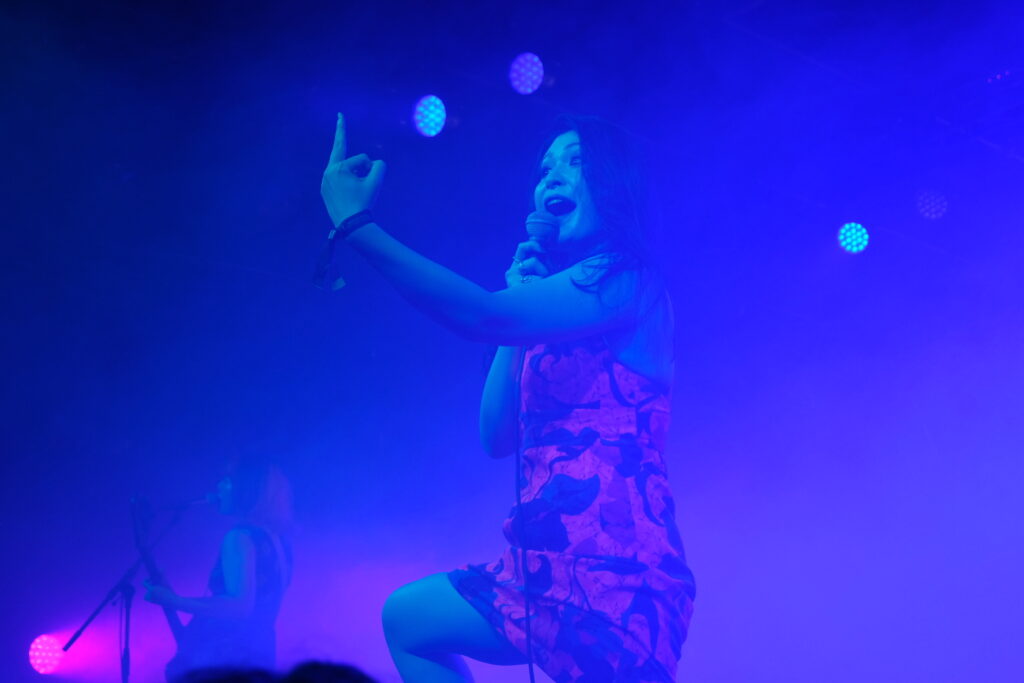 Otoboke Beaver is one of those groups that seems to tour constantly – naturally because they love to perform – but they've obviously been hampered by the pandemic. It's not surprising that their latest album Super Champon came out just as restrictions lifted in many countries this year. It's been an important year for the group, with rave reviews appearances at huge festivals like Primavera and an extensive US tour.
The feeling in the room as the four women of Otoboke Beaver came on stage was remarkable. Everyone was very excited and Roskilde suddenly seemed to be full of Otoboke Beaver fans. In a programme that hasn't especially catered to the (white/male) punk audience, Otoboke Beaver was the perfect cure.
They played a blistering set and I for one can't understand how anyone could keep that level of energy up for such a long set. Still, time flew by and it was over before we knew it. The played a bunch of songs from their new album, which is their first in three years and a maximalist crash course in punk that manages to cram in 18 songs in 20 minutes. With titles like "You're No Hero Shut Up Fuck You Man-Whore", it's an accurate capsule of what Otoboke Beaver is – not just attitude, but message too.