This is probably what you've been waiting for. And god knows it's been a chore to compile the list this year. An enjoyable one though, and as usual with frantic November and December months catching up with everything we'd missed. I've probably listened to more new music this year than ever before in my life, and it feels like the amount of good stuff out there is still growing exponentially every year. Without lists like this one we wouldn't know where to begin and we wouldn't remember any of it next year. This year we will list 100 albums and it's been a tough choice even down to the final spots.
01 Parsnip – When the Tree Bears Fruit (Anti Fade)
Finally an album from the most fascinating band around since Kleenex.
02 Frankie & the Witch Fingers – ZAM (Greenway)
1000x better than anything in their back catalogue. A classic double album.
03 The Cowboys – The Bottom of a Rotten Flower (Feel It)
The Cowboys hit the bulls-eye with their first LP for Feel It.
04 Control Top – Covert Contracts (Get Better)
Hands down best punk full-length (and there aren't many of those) of the year.
05 Hand Habits – Placeholder (Saddle Creek)
Probably the best album on Saddle Creek since Lifted by Bright Eyes.
06 Altin Gün – Gece (Glitterbeat)
Somehow they managed to stay original despite being a covers band. One of the best live experiences of 2019.
07 Stella Donnelly – Beware of the Dogs (Secretly Canadian)
I'll always remember 2019 as the year I got to meet Donnelly and saw her play on both sides of the globe.
08 Automatic – Signal (Stones Throw)
Los Angeles goes NYC circa 1980. Give this LP to your partner.
09 J. McFarlane's Reality Guest – Ta Da (Hobbies Galore)
Julia McFarlane finally comes out as the musical genius that she is.
10 Warp – Traffic Control (Thrilling Living)
The most recent addition to the list, straight in at #10. This is rocket fuel.
11 Black Marble – Bigger Than Life (Sacred Bones)
I think me and Black Marble must've synched periods this year.
12 Cowgirl Clue – Icebreaker (Vada Vada)
This album really is "Hella Fairy" and one of the best releases from the Vada Vada-verse ever.
13 Toyota – s/t (Digital Regress)
You're all I wanted and a car. Especially if it's Toyota.
14 V/A – Face Off (no label)
The best compilation ever, made for a benefit gig and featuring Swab, Parsnip, The Snakes, Traffik Island, Synthetics, Exhaust World, Primo!, The Shifters, V, Habits and many more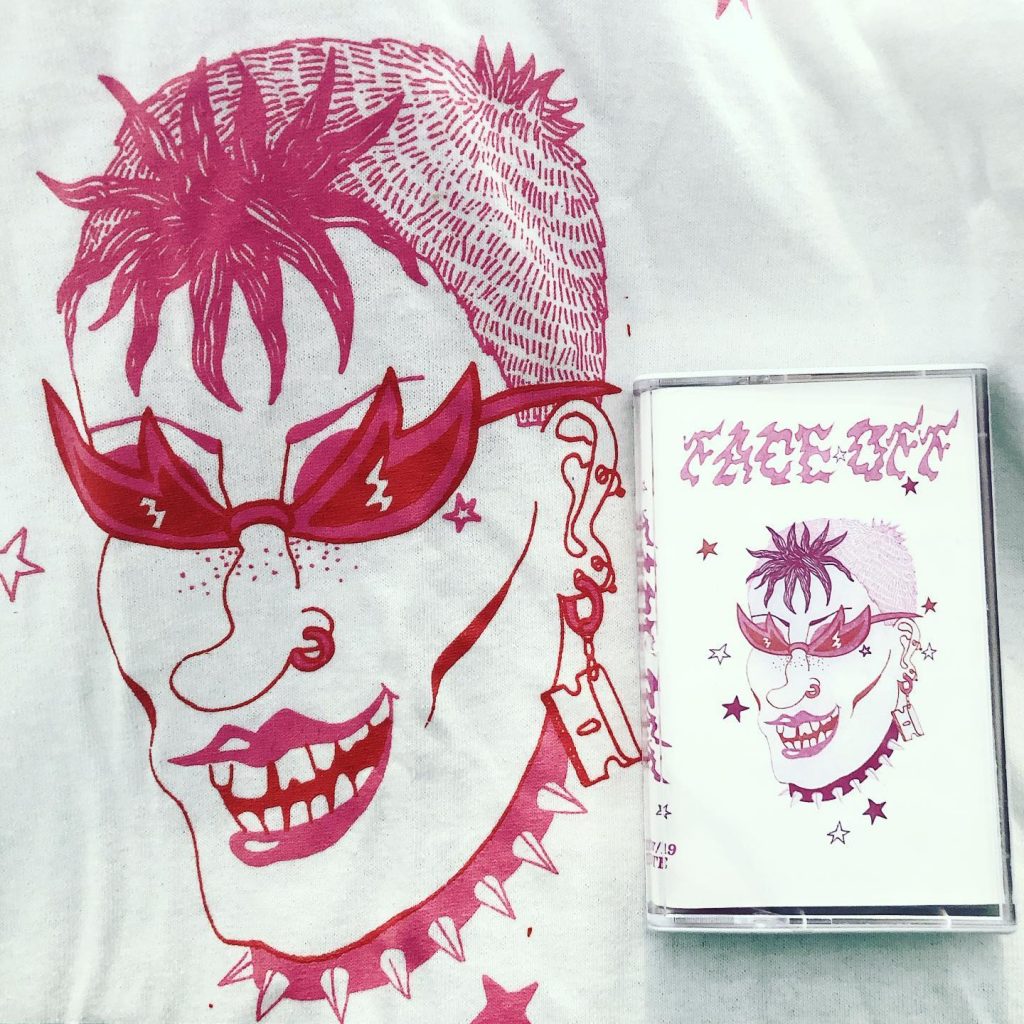 15 Filmmaker – Spectral (self-released)
Hard to say which Filmmaker album deserves to be on the list, so we've picked the most recent one.
16 Bifannah – Danças Líquidas (John Colby Sect)
Best 60s and 70s-inspired album this year, always refreshing.
17 Traffik Island – Nature Strip (Flightless)
Zak (ORB, Hierophants) finally released his first proper solo album. Read our interview with the man.
18 Tawings – s/t (Space Shower)
Japanese band Tawings break all genre boundaries with this post-modern classic.
19 Caroline Polachek – Pang (Perpetual Novice)
Over the top receives a new meaning with ex-Chairlift member's first solo album.
20 Hierophants – Spitting Out Moonlight (Anti Fade)
Apparently this band isn't really active anymore, but we finally got to hear what is their strongest collection of songs so far.
21 Patriarchy – Asking For It (Dero Arcade)
"These songs playfully reveal experiences (with varying viewpoints of predator and prey) that I've had on the spectrum between Reverence and Rape." Heavy.
22 Uranium Club – The Cosmo Cleaners (Fashionable Idiots)
The one and only Uranium Club will get your Geiger meters ticking.
23 Trampoline Team – s/t (Hozac)
Trampoline Team killing it in the manner of Angry Angles. Check out the Kill You EP too.
24 Midnite Snaxxx – Music Inside (Slovenly)
The Snaxxx shockingly deliver the best record of their career.
25 Lou Rebecca – Restless (Holodeck)
Best debut artist last year and what an album this year, I doubt she's even human.
Places 26-50, complete with links.
26 Le Villejuif Underground – When Will the Flies In Deauville Drop? (Born Bad)
27 Honey Radar – Ruby Puff of Dust (What's Your Rupture)
28 The Shivas – Dark Thoughts (Tender Loving Empire)
29 Chris Cohen – s/t (Captured Tracks)
30 Futurat – Reality Emulation (Slime Street)
31 Pscience – s/t (Space Taker)
32 French Vanilla – How Am I Not Myself (Danger Collective)
33 Chris Forsyth – All Time Present (No Quarter)
34 Purple Pilgrims – Perfumed Earth (Flying Nun)
35 The Young Sinclairs – Out of the Box (RPUT)
36 Babe Rainbow – Today (30th Century)
37 Booji Boys – Tube Reducer (Drunken Sailor)
38 Young Guv – GUV I & II (Run For Cover)
39 Levitation Room – Headspace (Greenway)
40 Derya Yildirim & Grup Simsek – Kar Yagar (Bongo Joe)
41 Liquid Face – s/t (self-released)
42 L'Eclair – Sauropoda (BBIB)
43 The Reds, Pinks and Purples – Anxiety Art (Pretty Olivia)
44 Mattiel – Satis Factory (Heavenly)
45 WOW – Come la Notte (Maple Death)
46 Gena Rose Bruce – Can't Make You Love Me (Dot Dash)
47 UV Race – Made In China (Aarght)
48 Blue Material – s/t (self-released)
49 Oh Sees – Face Stabber (Castle Face)
50 Joe Ghatt – Banana Sludge (Third Eye Stimuli)
Places 51-100 are also all essential listening. You'll have to use your google skills on these though.
51 Cereal Killer – The Beginning & End of (Anti Fade)
52 The Intelligence – Un-Psychedelic In Peavey City (Vapid Moonlighting)
53 Yin Yin – The Rabbit That Hunts Tigers (Bongo Joe)
54 Gal Gracen – Fantasy Gardens (Jazz)
55 The Mauskovic Dance Band – s/t (Soundway)
56 Candle – Master of the Multiple (self-released)
57 Erik Nervous & the Beta Blockers – LP (self-released)
58 Drahla – Useless Coordinates (Captured Tracks)
59 The Snakes – s/t (Anti Fade)
60 Ghost Funk Orchestra – A Song For Paul (Colemine)
61 QQQL – s/t (Another Label)
62 TV Party – s/t (Outro)
63 Possible Humans – Everybody Split (Trouble In Mind)
64 Moon Duo – Stars Are the Light (Sacred Bones)
65 Diät – Positive Disintegration (Blackest Ever Black)
66 Weyes Blood – Titanic Rising (Sub Pop)
67 Sam Cohen – The Future's Still Ringing In My Ears (30th Century)
68 Gamjee – Legacy Project (Tiny Town)
69 Generacion Suicida – Reflejos (Going Underground)
70 RMFC – Hive Vol 1 & 2 (Erste Theke Tonträger)
71 Nylex – Plastic For People (Nopatience)
72 Kit Sebastian – Mantra Moderne (Mr Bongo)
73 Carla dal Forno – Look Up Sharp (Kallista)
74 New Berlin – Magnet (Goodbye Boozy)
75 Premium Fantasy – 2 (self-released)
76 White Fence – I Have to Feed Larry's Hawk (Drag City)
77 Frank LoCrasto – Lost Dispatch (Royal Potato Family)
78 The Stroppies – Whoosh (Tough Love)
79 Wurve – Memory Bleach (Yippee Ki Yay)
80 Bobby Oroza – s/t (Big Crown)
81 Men I Trust – Oncle Jazz (Independent)
82 Drugdealer – Raw Honey (Mexican Summer)
83 Draggs – s/t (Slime Street)
84 Reptaliens – Valis (Captured Tracks)
85 Ty Segall – First Taste (Drag City)
86 Patti – Good Big (Erste Theke Tonträger)
87 Elizabeth – The Wonderful World of Nature (Our Golden Friend)
88 Sault – 7 (Forever Living Originals)
89 Program – Show Me (Anti Fade)
90 N0V3L – s/t (Meat Machine)
91 Stonefield – Bent (Flightless)
92 Sunwatchers – Illegal Moves (Trouble In Mind)
93 Lassie – Collected Cassettes (Phantom)
94 Powerplant – People In the Sun (Erste Theke Tonträger)
95 Camp Claude – Double Dreaming (AllPoints)
96 Badge Époque Ensemble – s/t (Telephone Explosion)
97 Khana Bierbood – Strangers From the Far East (Guruguru Brain)
98 Wand – Laughing Matter (Drag City)
99 Prettiest Eyes – Volume 3 (Castle Face)
100 The Staches – This Is Lake Pointless (Bongo Joe)