After a busy Friday where we also caught Richard Dawson, Africa Express, Mitski, Snail Mail and of course Tyler, the Creator – Saturday was spent enjoying the atmosphere of the festival site bathed in sun. Sitting/dancing in the Ambereum, having pies from New Zealand and people-watching.
The main event of the day for me was Kelly Lee Owens, who was revisiting Roskilde following a stellar performance in 2018. That year she played on the smaller Gloria stage but in 2022 she commanded the dancefloor in front of Apollo. The Apollo stage itself had been changed compared to previous years – now enclosed by containers all the way round. This allowed for a better sound, with a heavy bass that brings the experience up a notch. There's also a little DJ booth, from which different people entertain the crowd between shows.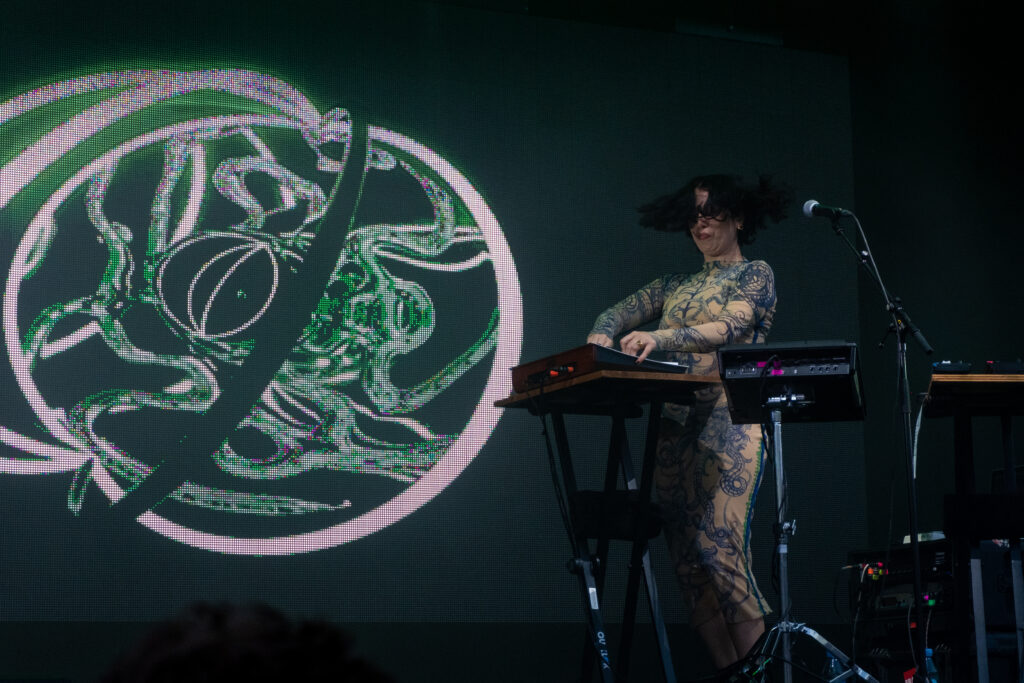 Owens recently put out her new album LP.8 but the live set is more club-oriented than the rather experimental album. A record the Welsh-born artist recored in Oslo – away from her home in London – right in the middle of the pandemic. She'd drawn a big crowd at Apollo: basically everyone at the festival with the faintest interest in electronic music. And she had us dancing from the get-go.
The visuals projected behind the artist were exquisite, changing for each tune she played. They must have taken ages to create, but I guess people had a lot of free time during the pandemic. Sometimes it's a bit boring watching a single person on stage performing from a computer. But Owens actually had quite a bit of hardware with her, playing her sampler with drumsticks at times. She's also such a joy to watch, with a positive energy that positively emanates from her where she's standing – up on the unreasonably high stage floor.
An almost completely opposite experience was to be had at Pavilion, where Converge: Bloodmoon played a bit later. Converge is the same hardcore/metal group that has been going since 1990, when they formed in the legendary city of Salem. The reason for their new moniker was a series of performances in 2016, labeled Blood Moon – where Converge played together with members of Chelsea Wolfe's band, Neurosis and Cave In. The performances focused on selected tracks from Converge's discography, particularly the unknown and slower pieces.
The project continued with an album that was finally released in 2021, called Bloodmoon: I. At Roskilde we were treated to a number of those songs – with Chelsea Wolfe playing guitar and singing on several. The gig united some of the stray doom heads and black metal fans at the festival (there truly weren't many of those) as well as other curious minds who didn't mind missing out on The Strokes.
It proved to be a memorable gig, full of both delicate and heavy moments – with the crowd not missing the short opportunity to mosh during the more riff intensive moments. In a way, the gig felt a bit out of place at Roskilde, which has had a general festive feeling this year as they are celebrating its 50th anniversary. The world of Converge, however, remained black and doom-laden.
Eventually, I too drifted off to catch a few minutes of The Strokes, since I'd never had the opportunity to see them play when I actually did listen to them back in 2001. But it turned out they weren't anywhere near as interesting as Samba Touré from Mali or Imarhan from Mali – both of whom performed on the Saturday.