Here's a golden oldie for you due to the holiday times. I interviewed Tyvek a couple of years ago when they played support for Protomartyr on their European tour. The interview was meant to result in an article for a magazine, but suddenly a bunch of stuff happened. Like a breakup, my phone (on which I'd recorded it) being stolen. Moving house, moving country etc. Eventually I found the recording in the cloud and got down to transcribing it. Since then Tyvek has released an EP in 2019 and a collection of demos on Fag Tapes. The demos are from around the time of the release of Nothing Fits.
Tyvek playing live in Sweden, 2011: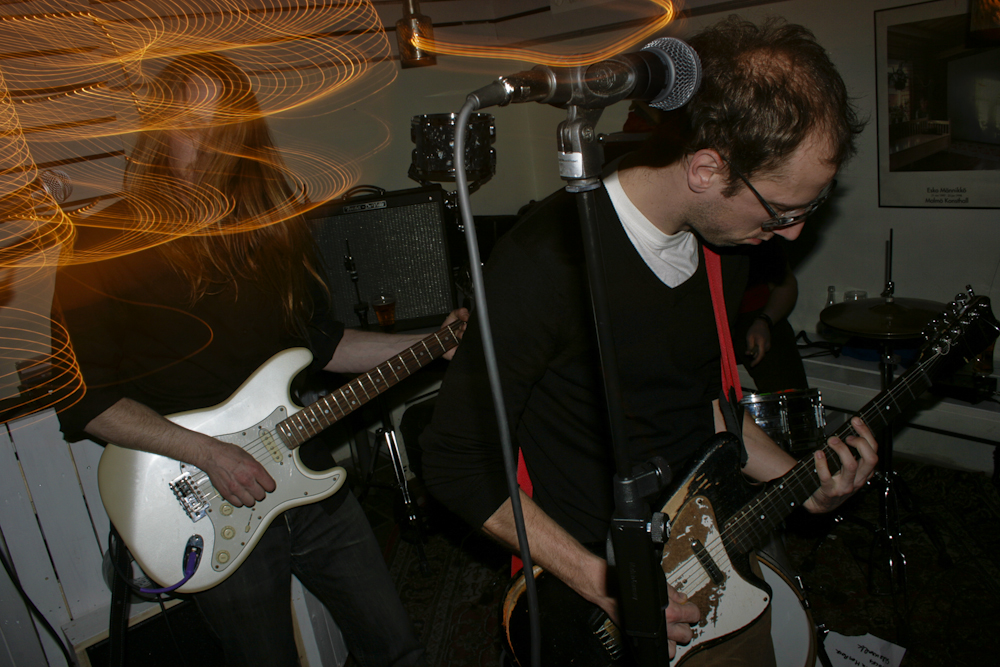 In this interview Tyvek are:
Kevin Boyer – guitar & vocals
Alex Glendening – bass
Shelley Salant – guitar
Fred Thomas – drums
What do you think is the best thing about playing music? What makes you want to do it?
To me is just the most FUN THING TO DO.

Shelley
Yeah, what is it? I think it's a lot of fun. And then there's also this element of just feeling like you HAVE TO do it. Like it's more of an impulse or a compulsion. And then if you're doing it by yourself you think "well, I'd also like to meet people and do this for other people" and so you get out there. So it's a combination of a personal impulse and wanting to find a community of people who are into the same stuff.

Kevin
For me, playing music was the first thing that ever went right, by my own choice in my life. And then, yeah, it's the compulsion to keep it going.

Alex
How did you guys meet?
Well, Shelley put on a Tyvek show before she was in the band.

Kevin
Yeah, I was a huge Tyvek fan. They were my favorite band and I put on some show. I think, the first one was at a teen center that I used to put on shows at when I was in high school. In Ann Arbor, which is 45 minutes away from Detroit. March 24th 2007, that's when I met these guys. And then I would always ask them to play shows. The original bassist of Tyvek, Larry Williams, was a prosecutor at the time. He's great, he's actually a judge now. So these guys wanted to go tour some more and he couldn't tour, cause he's a prosecutor. So Kevin asked me about playing bass.

Shelley
In 2005, I went to see Tyvek for the first time. In Detroit at The Magic Stick. And afterwards I went up to Larry and I said "hey, you guys are my favourite band I've ever seen from Detroit". And he's like "oh thank you, what's your name? I said "Alex Glendening" and he said "we can't hang out, I work with your mom".

Alex
His mom is now also a judge.

Shelley
Yeah, well, we called her and said hi!

Alex
So I played bass in the band for a couple of years, and then I left for five or six years. And now I play guitar and our drummer Fred we've all known pretty much forever.

Shelley
Yeah. I think I first played a show with Fred in my old band when I was in high school, when I was like 17.

Kevin
Los Pinkos?

Alex
Yeah, Los Pinkos and Fred's old band Lovesick.

Kevin
I've got a flyer for that show, Fred gave it to me.

Shelley
That was like 1998, when I first met Fred. And since then he's recorded the last two Tyvek albums and played drums on the last one.

Kevin
Actually the first time I saw Tyvek, which was, I'm going to say January 2006, Fred guest-played guitar. This current lineup is… you know, we've all kind of like known each other for a long time.

Shelley
I met Alex at shows.

Kevin
Yeah, I went to a lot of shows, still do.

Alex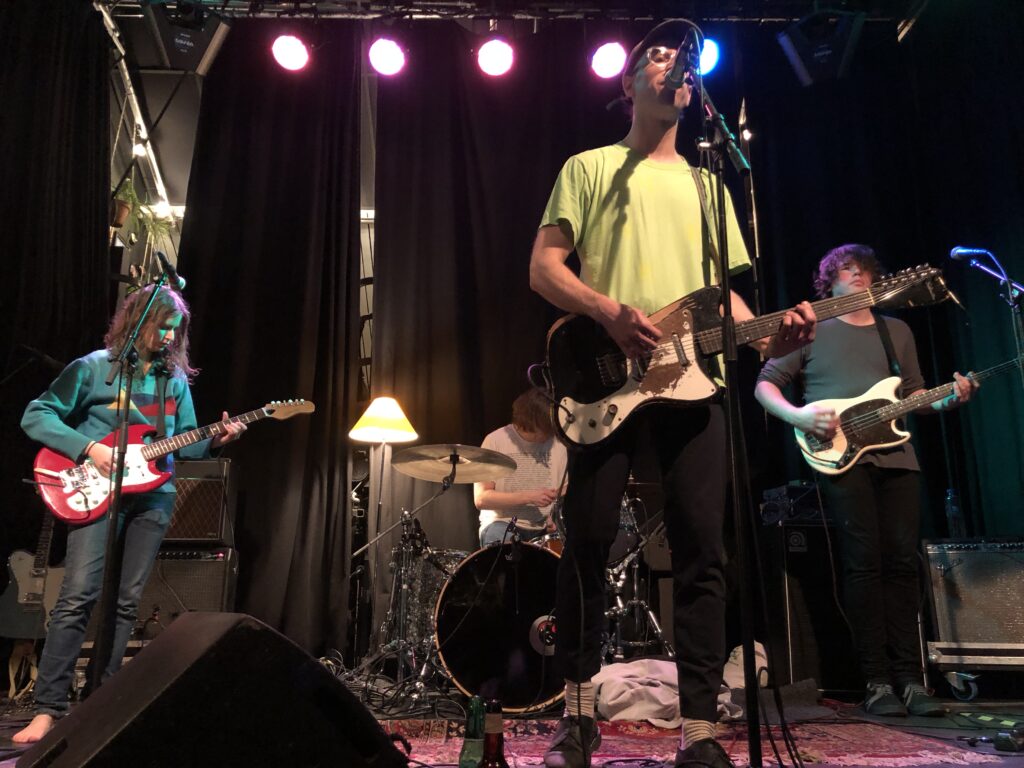 Do you have anything new coming out or are you touring with Protomartyr because they're friends and they invited you?
Yeah, I've known Joe (the singer in Protomartyr) since we were kids basically. And yeah, we don't have anything new coming out now, but we just recorded a new demo. And we're going to start recording a new album this summer – with this lineup.

Kevin
I also heard that you don't live in Detroit anymore.
Yeah, I moved to Philadelphia a little over three years ago now, which has been really cool. I needed a change of pace, you know. I was 35 and I never had really moved anywhere else at all. But I've I come back to Detroit a lot – as much as I can.

Kevin
Does that make it more special in a way, coming back to record stuff and practice?
Kevin: Yeah, when I'm back around I have been focusing on practicing and recording. I think it does in a way make it a little more difficult. But you know, I think it kind of fits with the life of the band. For some reason I feel like a band always kind of comes in waves like that. There'll be periods when you're more active and then periods when you're not as active. So it kind of works.

Kevin
Does that mean that you record stuff and send things back and forth? Do you always meet up and record live?
Yeah we always record live, but definitely for mixes or just ideas, we email back and forth.

Kevin
Another thing that your music's got me thinking about is: why do you think some people enjoy a noise in music and some people can't stand it?
Well, that's a great question. If my dad hears a record with feedback on it, he just thinks 'what's that terrible sound', you know.

Fred
I think it's just like your vocabulary gets larger as you learn more words or your taste for food gets broader as you have… more stuff? But I think, you learn to appreciate certain sounds. And I also think there's a certain power in feedback and noise and stuff. That it's cool to have something non-musical just to cut through.

Kevin
Do you think it's connected to an urban thing, like the sounds of the city?
A lot of noise bands come out of desolate places.

Alex
Yeah city AND country, and an environment of isolation more than any geographic environment.

Fred
I guess with technology, when amps got big enough, it became a tool for people who are creative and who want to make sounds but haven't technically learnt how to play an instrument. It's also just a very open and kind of democratic way to make sounds too.

Kevin
From talking to other punk bands, it seems that a lot of groups have an aversion to humor or 'being entertaining' in a way that makes them uncool. That's never seemed to to trouble you in the music that you're making?
I don't think things should be that serious. I don't think music or anything should be taken so seriously that there's no room for laughter, or something that is comical. When people take themselves so seriously that they can't also laugh at themselves, it's just like it's fake, you know.

Kevin
I think it's hard for some people to present humor and still be clever. I feel like sometimes when you're performing music or whatever – if you're going to be funny – it's often over the top. Instead of just sliding in there seamlessly. That's something that's rare.

Alex
Can it be hard to combine being angry with being funny?
I don't think so. I think a lot of great humor might come from anger. The band Flipper is dark and angry and like, destroyed. But it makes me laugh. I think it's so funny and it makes me happy, even though it's the most disturbed shit. No Trend or Flipper! It's just really difficult music, but I think it's hilarious, you know. I love it.

Fred
Speaking of difficult music, where do you draw the line between ambition and pretension in your music?
Part of it is that if you get too ambitious, it becomes difficult to reproduce it live. I don't know, Tyvek songs are kind of built like a safety net where, if anybody forgets what's going on, it's easy to get back in. I always kind of wanted to make music that was loose – loose enough that there's room to change it up and do something different. So I think that's part of it, just kind of building some freedom into the structure.

Kevin
And in terms of lyrics?
Lyrics are so funny because, in writing each song the lyric comes about in a different way. Sometimes it's very much based on the music and the rhythm of the song. Just whatever sounds right with it, and building from that. But it could be something totally different, like trying to write something where the lyric is more linear. Where there's something going on that has to be developed. So I think there's a little bit of each in Tyvek.

Kevin
The lyrical approach also follows the same sort of masterplan, because the lyrics evolve. So what's on the record isn't always what happens live. Sometimes entire verses are left off. Like on the last record there were a lot of different takes, a lot different vocals with completely different sets of lyrics. And you're only hearing parts of it. But it was also written more in that way, more fragmented. And maybe also not taking itself so seriously like 'no, THIS is the lyric, this is exactly what I'm trying to say'. Maybe it's more like a vibe.

The last couple of records were done really, really lofi on 4-track cassette or the one before that was on an old reel-to-reel that only had 3 working tracks. But they don't sound like 'oh, this is really impressively lofi'. It just sounds like the band, and kind of strange and alien like the band is. But you're not really focusing on the recording quality as much focusing on the vibe.

Fred
The crowd here is probably people who have been fans for a while. Do you try to reach out to people you think might enjoy your music?
Like, new people?

Kevin
Not really the strong suit of this band!

Fred
Oh, you mean like texting people and telling them that we're playing the next night?!

Alex
Reaching out wouldn't really work for us. But at the same time, I try not to think about how other people might listen to our music. I guess because, I just I really want to make something I WANT TO listen to. I just want to be happy with it, you know? And I think that's that's the challenge for me, to just be like 'I want to hear this in my own house'. But I feel like I'm also similar to other people, so if I end up with something that I really like (I feel like I'm pretty critical, too), then there's a good chance that other people will like it too. But as far as reaching new people, I don't know.

Kevin
It's not like Tyvek is gonna be this new, hot band that people keep hearing about. People will discover this band somehow and then they'll be like 'wow they have records out'. It's been like that for ten years or more than that. And so with over a decade, you have different people that have different phases. You have a your old diehard fans. But to anyone that's new to this band, it probably also feels like it's a personal treasure. I prefer bands like that to bands that everyone starts talking about because they're new and hot.

Fred