Intonal festival in Malmö, Sweden, kickoff on Wednesday. With the most ambitious and diverse programme ever, these first few day have been truly magical. As usual, parts of the festival are open to the public – like the "ambient assembly" that took place in an old wooden structure in Folkets Park that had been completely transformed by the stage design. The walls were covered with paintings illuminated by uv light and the air thick with smoke.
Danish ambient artist Hviledag did a beautiful set with a setup that involved a tape loop running between to reel-to-reel machines. Stockholm's Rip Me performed solo with just a bass guitar and octaviser, followed by a haunting set by Laila Sakini who comes from Melbourne via London. One of my friends actually thought her music was so scary he had to leave.
The Thursday was the day of the customary church gig. Each year Intonal presents a concert in St Johannes church in Malmö which is also open to non-pass holders – either free or ticketed. 2023 saw the return of London-based percussionist Valentina Magaletti. She performed as a part of last year's festival too, where she did a DJ set and played drums with Holy Tongue.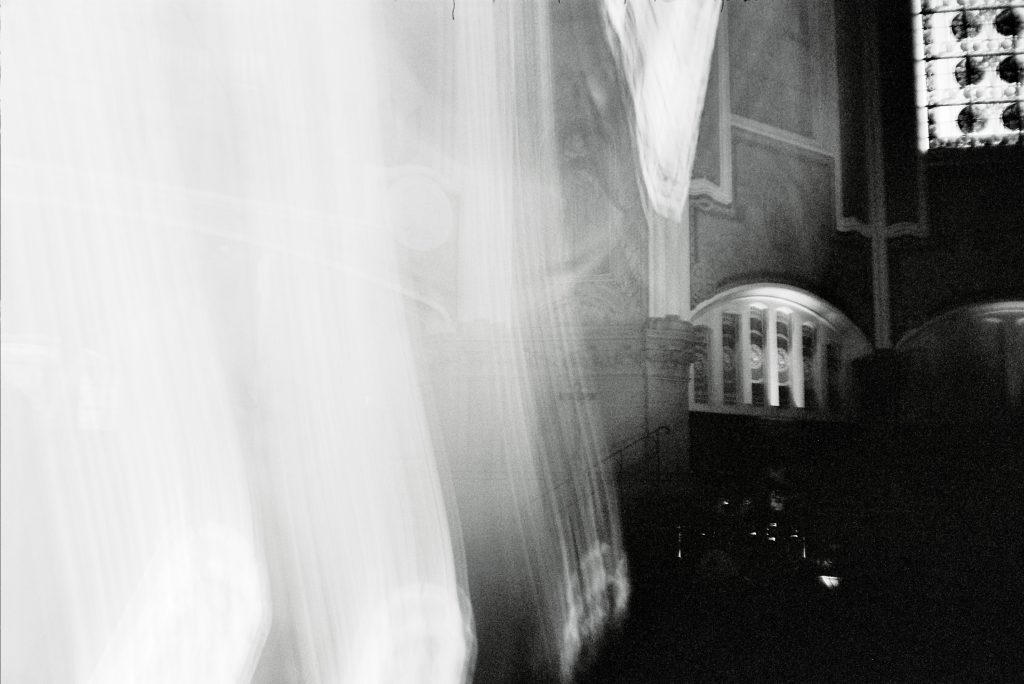 This year she performed solo in the church on drums, various percussion, vibraphone and a sparse backing track. Earlier this year she released a new track on Longform Editions, called "Different Rooms". A version of the 20-minute track was woven into the performance, which say Magaletti in a particularly joyous mood. This is the third time I've seen her play (after seeing Holy Tongue and Vanishing Twin) and each time I get more impressed. She was followed by the mystical Laraaji – and artist I knew nothing about but who's been active in NYC since the 70s and even released a record in Brian Eno's Ambient series in 1980. He played piano, kalimba and an amplified gong but mostly his signature autoharp.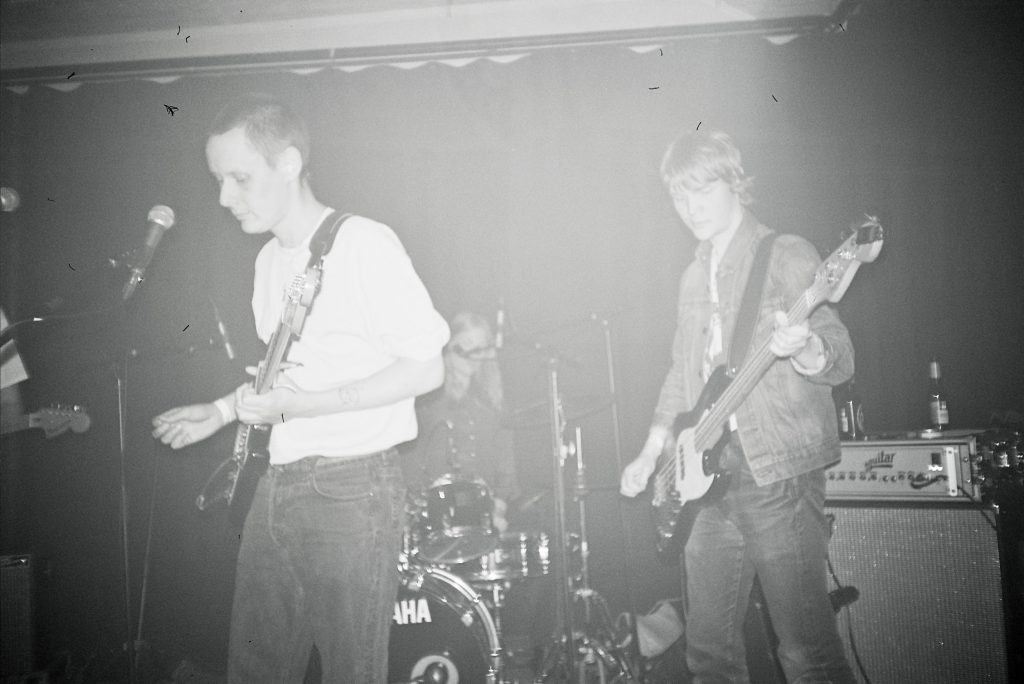 Thursday evening was finished off in the Inkonst venue, where I witnessed a dance performance by Suutoo and a rare live set by Jjulius from Gothenburg. Having been a longtime fan of both Skiftande Enter and Monokultur, it was amazing to finally get to meet and hear him, along with a full band. They played material from his two solo albums (out on DFA) as well as his very first single. Sadly I missed Elvin Brandhi at the end, so someone please tell me how it was.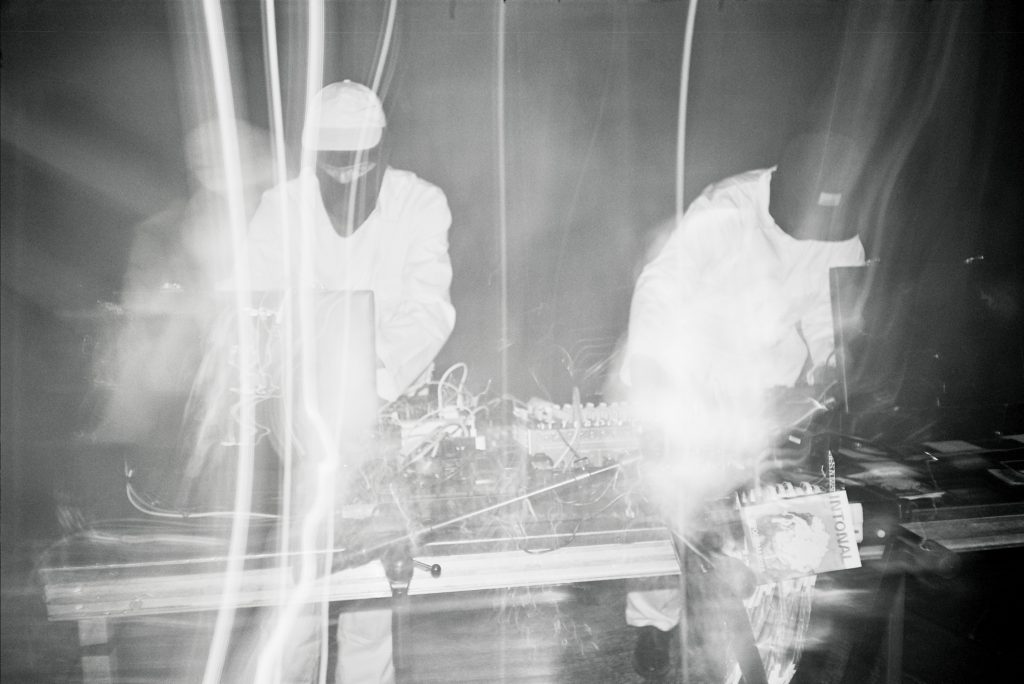 On Friday I went straight to the festival after work – walking in on Scottish artist Susannah Stark's amazing gig, in which she was supported by a trumpet player and a drummer. Friday delivered such an incredible spectrum of sounds, from the brittle and nuanced tones of Stark's mostly vocal-based music to Berlin duo Inkasso's cold machine funk. I only released this later but behind the masks, the founders of two of my favourite labels were hiding. They run Kashual Plastik and Uncanny Valley and released a brilliant LP together on Elena Colombi's Osàre! Editions back in 2021.
Another extreme was the hedonist indulgence of Vanligt Folk. It was the second time they graced Inkonst with a performance this year – following a winter gig that was interrupted by a 30-minute fire alarm and evacuation. This time they were a little less inebriated but created a full-on party, with an amazing projected backdrop. It was actually the premiere of the new new audio-visual work they have created together with Norwegian video artist Tobias Toyberg-Frandzen, whom I highly recommend checking out. I also took a brief sojourn to hear Australian percussionist Will Guthrie who was simply mesmerising.
The two highlights of the day however, were probably Coby Sey and Bendik Giske. Sey released a highly praised album last year where his musical vision, informed by life in South-East London, reached a new pinnacle. It was funky, it was heavy, it was serious and it was moving. Norwegian saxophone virtuoso Bendik Giske was the last of the "big three" to visit Inkonst. Colin Stetson and Ben Vince both have, and in fact Ben Vince was here again this year, since he's a part of Coby Sey's band.
Giske played a beautiful set in the blackbox, dressed in stilettos and an oversize leather coat – as the floor spilled over with dry ice smoke. Couldn't have wishes for a better ending. Except that was not the ending. Afterwards we ventured upstairs to witness Bear Bones, Lay Low who has set up his equipment in the middle of the dance floor. The Venezuelan artist who is residing in Belgium played a raucous and noisy set that included cassette tapes and plenty of hardware.