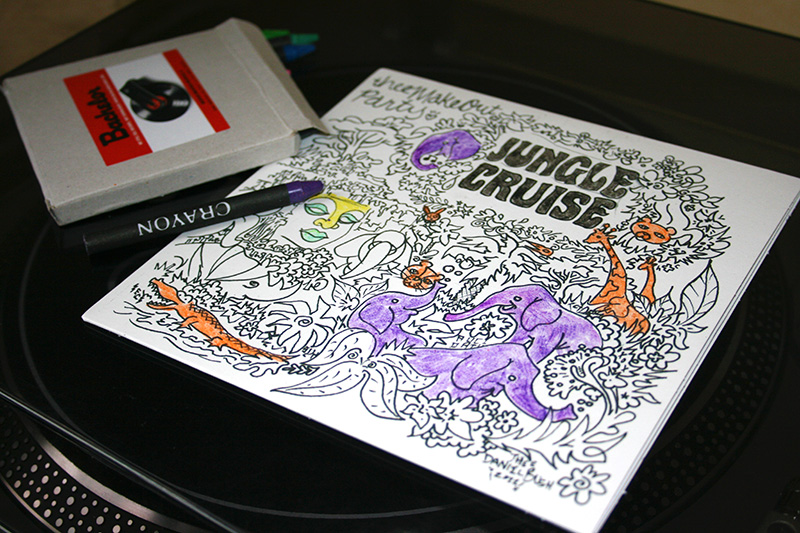 Who'd have thought Thee Makeout Party would return with another record? After the brilliant Play Pretend from 2008 they got busy with Burger Records instead, but here's a new 7″ on Bachelor featuring two tracks from the ditched 2nd album. "Jungle Cruise" comes in custom handmade sleeves, but to save time and money you'll get to customise it yourself, using the complementary set of crayons from Bachelor! The b-side, "Bubblegum Song" could be considered as much of an anthem of the TMP ethos as the old LP opener "Wreckless Epic". This 7″ should win the band some new fans, but makes no promises of the band getting back together. Check out "Jungle Cruise" on soundcloud.
The other new 7″ on Bachelor is from local Austrian girl-punk group The Shirley Maclaines. This by now seasoned group of musicians already released a single six years ago on American label Heads Up!, but whether or not it's the same line-up the new 5-track ep sounds a lot more spot on. Stream the whole thing on bandcamp.
I really regret not having got into the great Flip-Tops until I heard about their sophomore realese just out on Bachelor, The Flip-Tops Are Still a Band. If you like bands like The Hi-Fives and The Lids, you'll absolutely love their 2002 LP All Worked Up. Now they're back, and the new set of 11 tracks still rips through enough hooks to stay on the right side of punk crudeness. "Lock Me Up" is a new contemporary classic and almost as good is "Retard Love", streaming below. The Flip-Tops bass player Sarah Epstein is also in the more widely acclaimed group The Hunches and some of the others previously played in Jetpack, whom I have yet to hear.