I've been playing Greek garage today, and finally had  a listen to Yesterday's Thoughts. And I'm glad I did since they're up there with The Sound Explosion and The Frantic V. They formed not long after the Five, in 1996, with their first ep coming out in 1998. They've released three album's since then, which are all good, but it's the debut I'd like to recommend here.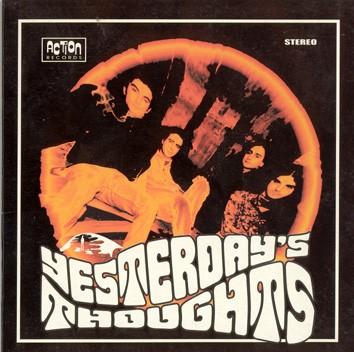 Yesterday's Thoughts seem to have taken more than ideas for cover art from the Yesterday's Dawn compilation – they actually sound like The Blue Condition, The Vectors and The Paragons, without ever playing any covers. They have a foundation in the moody garage The Frantic V have already perfected, based around the Farfisa and reverb-laden tremolo guitar, but they've got more of a punk edge – especially to the vocals. They've also gone and found themselves a fantastic fuzz sound, most likely from those Mourning Reign 45s.
With song titles like "Misery", "Walking to Your Grave" and "So Scary" fans of moody garage know what to expect. Searchin' In the Shadows doesn't have many major keys to show and people who want their garage Sonics-style needn't bother – the rhythm section is low in the mix. In fact, a bit too low and I'd love to hear the album in a mono mix, maybe even recorded at Circo Perotti or Toe Rag. The newer albums seem better recorded but perhaps also more polished. Check out "Mary" from their first album below.