RECORD TURNOVER 80s HITS #15
Ed Ball was in Television Personalities together with Dan Treacy and Joe Foster in late 70s London, while also playing in Teenage Filmstars, The Gifted Children, O Level and of course The Times – most of them including the same members. Having already released "I Helped Patrick McGoohan Escape" on Whaam! as Teenage Filmstars in 1980, another, cleaner and better version ended up on the first Times LP Pop Goes Art! from 1982. This is a confusing era in Ball's discography since it was also the time he left the collaboration with Treacy and started his own label Artpop!, on which he released the album once again. The catalogue numbering system doesn't make it any easier either since the LPs are numbered counting down from 20 and the singles counting down from 50.
"I Helped Patrick McGoohan Escape" was also picked for a 7″ release, as the Artpop! label's second single. The following year Ball made a further effort to promote it by issuing it on a 12″ together with four new songs. This release got the catalogue number "Artpop! No. 1" and included the official lyric book that I found thanks to the Leaders of Men blog.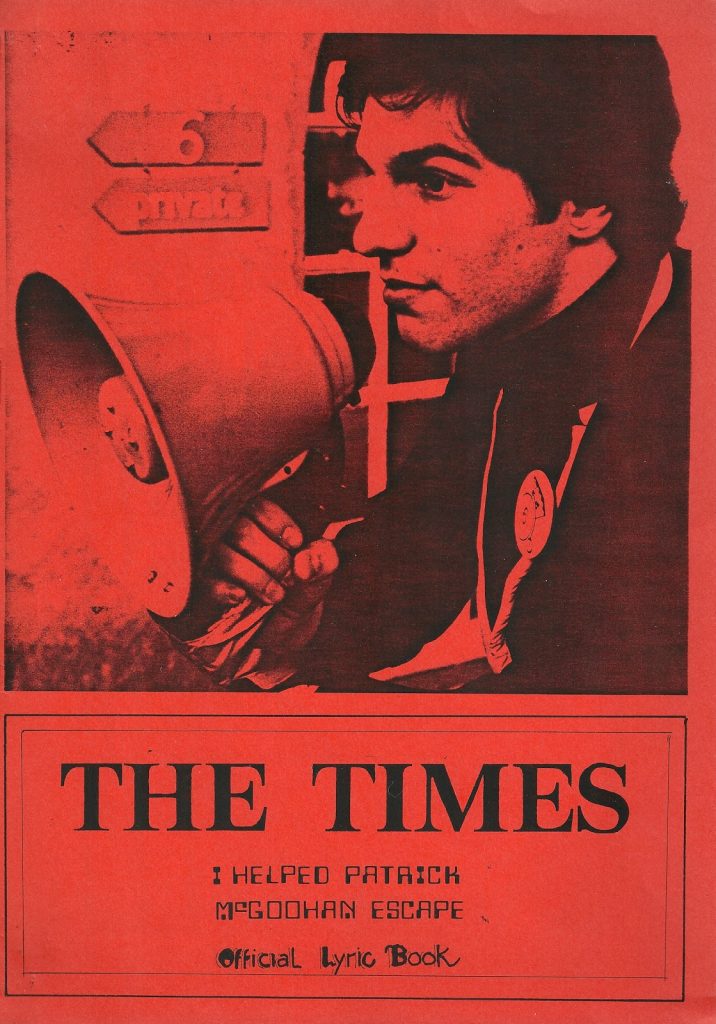 On the Creation Records (where Ball later found a job) channel you can also see the ambitious promo film made for the song (this was a couple of years after MTV began broadcasting in the US). It mimics the opening titles to The Prisoner, starring Ed Ball as Patrick McGoohan, as number 6 – seemingly shot on location in Portmeirion, or 'The Village'. Some stills from the production also appear in the printed booklet. The series itself was highly self-referential, as the opening titles actually show McGoohan "quitting his job" as the main star/agent in his preceding acting role in Dangerman. It remains the greatest TV show created until Twin Peaks some 20 odd years later.
There's also an entertaining interview with Ball on the Creation site.